HPE VDI-as-a-Service: Overcoming Business Continuity Threats in a Rapidly Evolving World
Published on 21 October 2020
The COVID-19 pandemic has spawned a uniquely challenging environment that is all at once overwhelming, pervasive and seemingly unrelenting. Businesses in every industry, economy, and geography are faced with an existential threat, and with each passing day, more of them are shutting shops. Gartner estimates that only 12% of the businesses are prepared to deal with this pandemic.
The rest? Well, they are sitting ducks.
In hindsight, despite the enormous size of the threat, the challenges thrown up by the pandemic are not unexpected. Businesses around the world implement multiple failsafe measures, disaster recovery initiatives, and business continuity plans to overcome precisely these kinds of natural disasters.
How Did Organizations Traditionally Handle Such Challenges?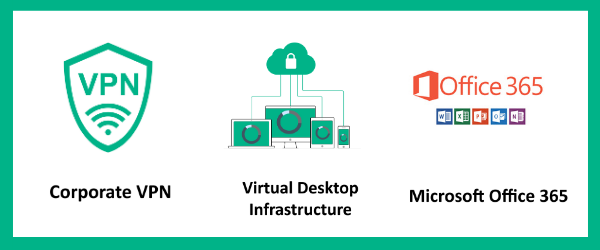 While the COVID-19 pandemic sent the bulk of the workforce scurrying back into their homes into a work-from-home situation, this is an all-too-familiar arrangement for businesses. Organizations have been actively integrating and accommodating remote workforce into their ranks for quite some time. Here's how they have done it so far and why they won't work anymore:
·
Corporate VPN
Corporate VPN has traditionally allowed employees to work remotely on a secure corporate network from wherever they are. However, with the size of the remote workforce exploding due to the pandemic, the corporate VPNs are overloaded. Very few businesses and VPN providers have been able to seamlessly scale up their VPN infrastructure during these challenging times.
·
Virtual Desktop Infrastructure
VDI is a highly resource-intensive infrastructure. Therefore, organizations typically provisioned a small number of their employees with access to VDIs. The utilization of VDI in organizations tends to be around 10% during normal times. Expanding them rapidly is neither economical nor efficient. Even if the organizations have the financial wherewithal to scale up, they will have to purchase, install, and configure expensive hardware systems, which will be rendered useless after the pandemic.
·
Microsoft Office 365
Collaborations on Office 365 are already a thing, and most corporate users are well-versed with the Office 365 Suite. Although Office 365 may feature robust security features, using an untrusted network or device to access it beats the very purpose. Critical businesses like Secure FSI and Healthcare providers cannot handle sensitive information than cannot be exposed to such vulnerabilities.
The traditional failsafe measures are no longer relevant. Businesses are compelled to evolve and change the very nature of their operations to ensure their business continuity.
That's Why, HPE GreenLake
HPE GreenLake is a VDI-as-a-Service software that offers employees secure access to corporate networks, apps, and data. It brings all the advantages offered by the traditional VDI infrastructure and wraps them up in a cloud-like offering that is flexible, scalable, cost-effective, and robust.
Here's why HPE GreenLake VDIaaS is the future of business, as organizations tackle the pandemic challenges:

HPE GreenLake allows organizations to keep all their sensitive data on-premise, just like the traditional VDI. Unlike the cloud solutions that hardly offer any data localization commitments, HPE GreenLake stores all your corporate data within your premises.


While the cloud services do not offer businesses hardware-level access to their infrastructure, HPE GreenLake gives them complete control over their VDI infrastructure. They can customize everything from hardware to operations to suit their unique business objectives.
Dedicated VDI infrastructure requires massive CapEx investment and can be difficult to scale. Conversely, cloud solutions can get too costly rapidly for anything but a small team of users. With HPE GreenLake, businesses can make simple usage-based monthly payments, just like cloud, without having to invest heavily in the infrastructure. It offers the best of both worlds.

HPE GreenLake VDIaaS is designed for growing organizations. Scalability is built into the solution, and businesses can expand their VDI utilization seamlessly. Of course, they'll be required to make a medium-term commitment on their subscription.

Corporate users can access VDI desktops from anywhere in the world, on any network. Although they see a desktop and use a desktop, all the data continues to be stored on-premises. The end users never handle the data locally. Hence even if they are compromised, they do not give hackers access to corporate data.


With HPE VDI-as-a-Service solution, end users can access a familiar Windows desktop. Should they require access from a non-Windows computer, they can still view a Windows desktop and thus improves work productivity.
The apps installed on VDI infrastructure can use the more capable hardware. Therefore, high-performance apps will run faster and smoother.
All these factors allow businesses to continue their business operations without compromising security, jeopardizing compliance or suffering productivity loss.
Secure Your Business' Future With HPE GreenLake
HPE GreenLake is a revolutionary model that offers an optional Managed Services feature to complement its VDIaaS solution. Businesses get the option to choose between different HPE platforms – DL380, SimpliVity 380, and DX380 – to suit their unique business requirements.
To learn more about HPE GreenLake and understand how it can help transform your organization into a resilient, shockproof machine, get in touch with us.

Tags: Business Continuity, Corporate VPN, Digital Transformation, Greenlake, HPE, Hybrid cloud, Hyperconverge, Managed Services, Microsoft, Office 365, remote workforce, VDI, Virtual Desktop Infrastructure, VPN,
Other blog posts you might be interested in: