How to Create and Maintain a Robust Patch Management Strategy
Published on 09 December 2020
Did you know that over 80% of the security breaches are the result of poor patch management policies and practices?
It's shocking to realize that all these breaches could have been prevented with a more proactive patch management strategy, which would have saved organizations tremendous losses arising out of such data breaches.
This poses the more critical question – why would organizations defer patch implementation when the vulnerabilities have been identified? The answers range from potential complications resulting from the patches to the lack of resources required to create and deploy timely patches.
Threats Arising Out of Ineffective Patch Management
Modern cyber threats – viruses, trojans, social engineering attacks, phishing attacks, and many others – exploit vulnerabilities in IT systems to invade them. Therefore, a good patch management strategy has arguably become as important as an antivirus. Here are some of the sources of vulnerabilities in your IT infrastructure:
Operating systems are not the only source of software vulnerabilities. In reality, the more prominent security flaws have been found in third-party products such as Java, Flash, and Adobe Reader. Mere activation of default software update services and leaving them to self-update is not a reliable patch management strategy. At best, it is just doing a half-baked job.
Proliferation of IT Systems and their Invisibility
In today's digital era, corporate IT is routinely accessed by numerous devices that are increasingly growing varied, and complex. Office workstations, servers, desktops, BYODs, IoTs, and remote employee devices are some of the devices in this ecosystem. It's proving to be an uphill, if not impossible, task to keep track of all the devices, their software states, and the vulnerabilities in them.
Absence of a Patch Management Strategy
Most SMEs do not have the resources – financial or otherwise – to devise, implement, and sustain a comprehensive patch management strategy for all the IT systems they use. Typically, they rely on the automated updates received from the software makers. If the system is critical, they may even bring onboard a trusted vendor to provide them timely updates. However, this does not address the vulnerabilities existing in non-critical systems, which can be exploited to compromise the entire IT infrastructure.
WannaCry and Petya ransomware were able to wreak such havoc across the world because the victims of their attacks had not updated their systems, fearing the potential complications from the patches. And, those fears aren't unfounded either. Software patches hurriedly pushed into production have often caused serious problems to their IT systems.
The patching frequency plays a vital role in ensuring the security of corporate IT infrastructure. Cyber-criminals are growing more sophisticated by the day and are able to create exploits for known vulnerabilities faster than ever before. Any delay in patch releases makes your systems ideal candidates for their exploits. A multi-pronged patching frequency, preferably weekly, is the demand of the hour.
A 6-Step Guide To
Creating And Maintaining A Good Patch Management Strategy
An effective patch management strategy must tackle the common sources of vulnerabilities and make it excruciatingly difficult for cybercriminals to target your corporate IT systems. Here's a 6-step guide to creating and maintaining a solid patch management strategy: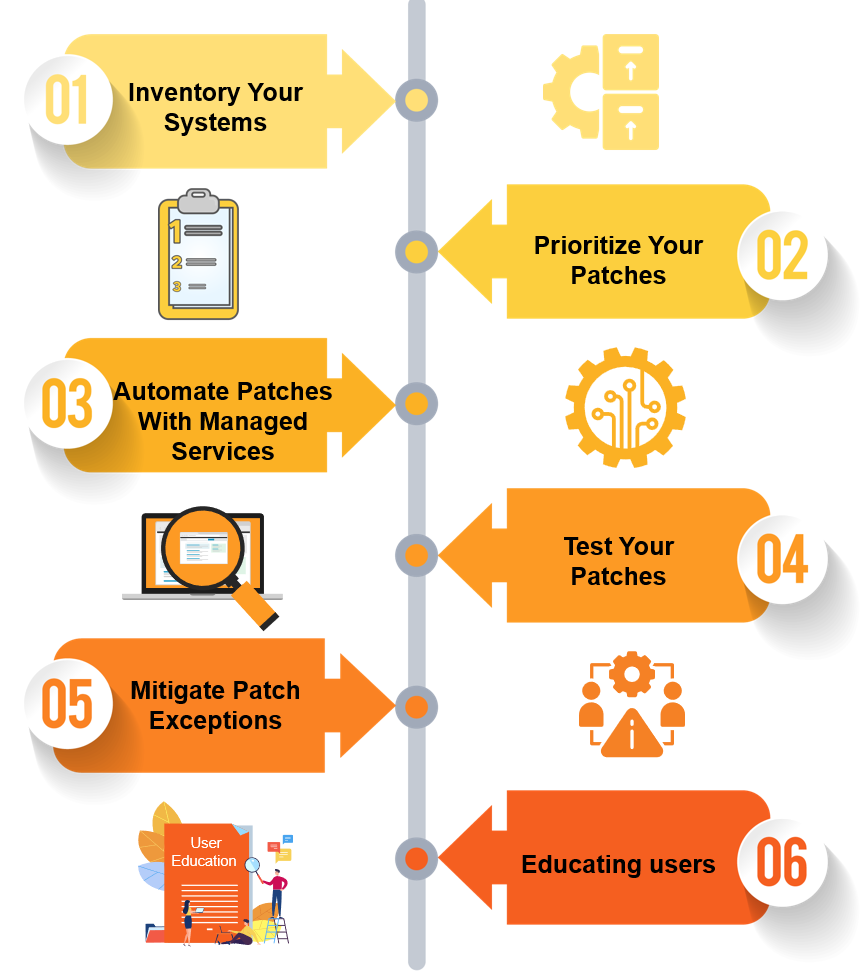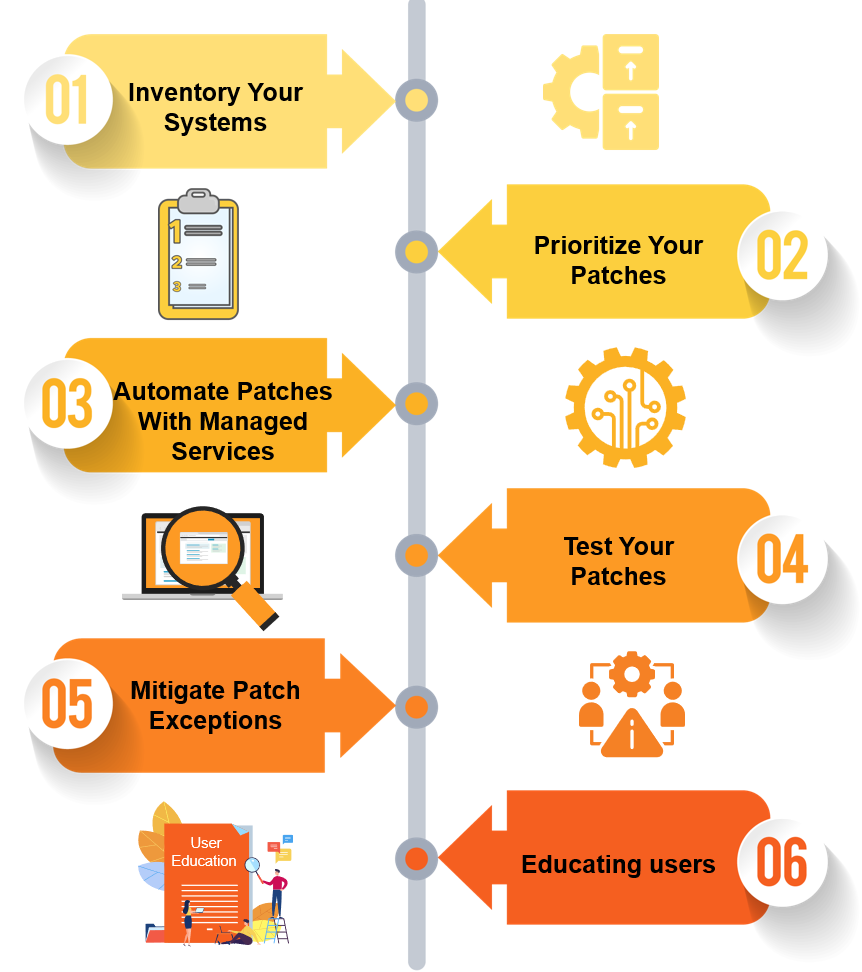 Inventory Your Systems
When you have a 360-degree view of your IT infrastructure and its systems, you'll be in a better position to craft a comprehensive patch management strategy that encompasses all your systems. So, keep track of all the IT systems in use within your organization. This includes systems that are not necessarily in your organization's control, such as employee devices, and contractor systems.
Prioritize Your Patches
Assign risk levels to your systems. Yes, it's important to release patches to all of your systems, but the critical systems take precedence over others. Define the criticality of systems based on the sensitivity of the data they handle, their importance for your operational continuity, and other factors. Naturally, critical systems should receive patches more frequently and faster.
Automate Patches With Managed Services
The dizzying variety of software and hardware that access today's corporate IT networks, apps, and data makes it nearly impossible for most SMEs to manage patches for them. However, a trusted managed services provider like AsiaPac can shoulder these responsibilities.
Managed services providers have powerful tools, processes, and expertise required to manage patches for all systems in your corporate IT ecosystem.
Test Your Patches
The pressure to release patches quickly for critical systems is understandable. However, that pressure should not translate into hurried releases of untested or poorly tested patches. Poor patches can often cause system-wide problems, thereby resulting in downtime for your business.
Mitigate Patch Exceptions
Despite your best efforts, some patches may cause breakdowns in your systems. When that happens, you may need to make exceptions while patching. You can choose to keep your system at its previous version without updating it until a suitable resolution has been found for the patching complication. Until that time, lockdown user permissions to the system, remove internet access to it, and find ways to limit the impact of the vulnerability being addressed by the patch.
Educating users
Irrespective of whether your updates are automated or managed manually, all users of your systems must be educated on the importance of updates. Keep them in the loop when a major update is to be released.
Final Thoughts
Patch management need not be an endless, mundane, and repetitive slog. AsiaPac Managed Services can help offload much of the hard work from your IT team and save them quality time. Effort and time your team can be redirected to IT transformation activities to help your business become more agile and competitive in the new economy.
Ignoring the importance of patching is a surefire way to fall victim to one of the many nascent vulnerabilities that surface each week.
Tags: Anti-Virus Management, AsiaPac Managed Services, automation, Cyber threats, Cybersecurity, Data Breach, Data Security, Managed Services, Pact Management, Proactive Monitoring, Ransomware, remote workforce, SMBs, Startups,
Other blog posts you might be interested in: