What is Daas or Device as a Service?
Published on 23 February 2023
What is Device as a Service?
Device As a Service (DaaS) is an intelligence-driven digital workspace and Unified Endpoint management platform. It enables organisations to simplify IT operations, improve security and deliver any application to any end user on any device. 
AsiaPac's offerings include a subscription model across device lifecycle management, application and end-to-end security management. Therefore, we can help customers beyond just traditional transactions to add more value to our clients. In helping them with data migration, integrating with useful tools such as Office365, establishing a virtual desktop infrastructure and setting up advanced identity access management, customers can embrace all possibilities to fully embrace their true potential. As opposed to purchasing these devices upfront, DaaS offer better efficiency for businesses and enterprises alike by reducing costs, as well as the complexity associated with managing and maintaining these devices. Because of this value, any organisation that has many employees who rely on devices to carry out their role may wish to consider using DaaS.
What are the benefits of AsiaPac's DaaS?
Lower Cost of Ownership
DaaS results in better cost efficiency for organisations by better managing overall expenses for their product's lifecycle. With zero-touch provisioning (ZTP), deployment and management of the devices are simplified through automation. It reduces the need for IT staff to physically configure each individual device. You can potentially save your company thousands of dollars in operating cost.
Another feature of AsiaPac's DaaS in Singapore is our Unified Endpoint Management (UEM). It allows companies to manage their devices from a single console. This increases productivity for organisations with many employees working remotely, as IT staff can manage and secure devices from a central location. 
Improved Security Posture
AsiaPac takes great care to ensure the highest levels of security for our DaaS. For example, we make use of instant push-based policies and patch management to manage and update the security and software patches on devices in the network. These updates are rolled out in real-time, as soon as they are made available by the provider. These timely updates minimise the risk of vulnerabilities on the network and ensure that they are always secure and compliant. AsiaPac also provides administrators with real-time visibility into the context and posture of all connected devices in a network, such as their location, the assigned user's activity, and security status.
To reduce the risk of security breaches, AsiaPac implements policy-based, proactive operating system (OS) hardening and compliance automation. It is to safeguard the OOS of a system proactively. This includes configuring the system to disable unnecessary services or features. It also applies software patches and updates to ensure that it is in compliance with industry standards.
In this regard, not only does AsiaPac's DaaS improve an organisation's security posture, but these processes are also automated, which means that they are implemented and enforced automatically without manual intervention. Therefore, it allows businesses to have peace of mind when it comes to security.
Deliver a Better User Experience
AsiaPac keeps processes seamless without compromising on their user experience. It allows the users to have their own choice of their device. Our experts automatically configure and set up devices with the necessary apps and resources that users need. We implement this without requiring manual installation from the company's IT department. AsiaPac also provides self-service apps and resources, which lets users access and use apps that they need directly from their own devices.
Our Success Stories as a DaaS Provider
AsiaPac has made a difference with its DaaS in multiple industries such as FSI, Healthcare, Telcos and Logistics among many others. Below are some of our success stories that showcase the AsiaPac advantage.
Supporting the Ministry of Education
During the COVID-19 pandemic in 2021, AsiaPac was chosen by the MOE as a key partner in the Personal Device Learning Program (PLDP) and Device Management Applications (DMA) for 250,000 devices. With these devices, students could continue learning while they were not attending school. Similarly, schools and parents could monitor the usage of these devices. 
Solving Cuscaden Peak Investments' Workload Migration
After the Cuscaden Peak Investments (CPI) consortium acquired the investment arm of Singapore Press Holdings , they had three months to migrate from their shared data centre, and urgently needed to set up their own Active Directory for 350 users to access their workloads.
AsiaPac proposed and implemented the Microsoft Modern Workplace Solution approach to expedite the migration process from the Google Cloud to Office 365. Thus, it improved the productivity of the company at the same time. AsiaPac also implemented the Azure Active Directory, a cloud-based identity and access management service. It enables users to access thousands of SaaS applications. This solution uses strong authentication and risk-based adaptive access policies without compromising user experience. Finally, Intune Autopilot provisioning allowed new devices to connect to the organisation's network seamlessly. As a result, it saved the company 80% of time and money by eliminating manual set-up processes.
Why Choose AsiaPac as your DaaS Provider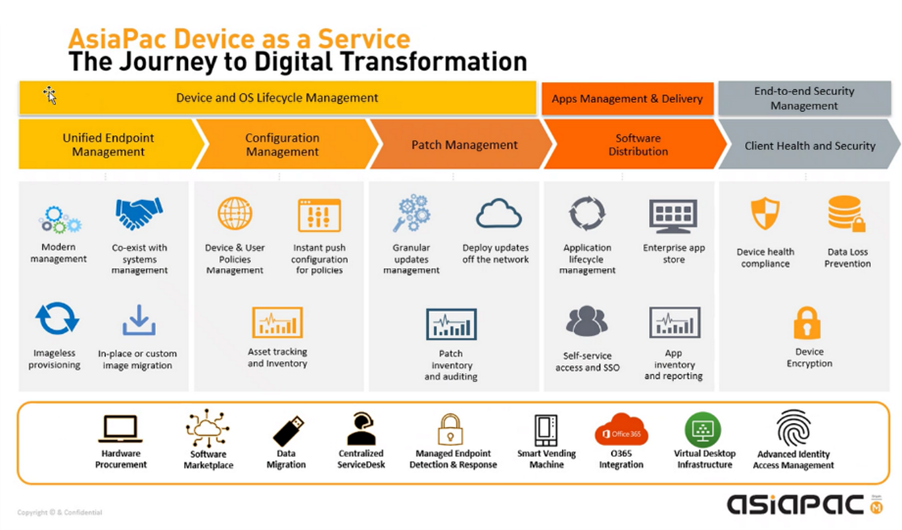 Since our inception in 1990, AsiaPac's DaaS in Singapore has driven transformation in companies of all sizes here, shaping the work experience of over 150,000 users and driving $15M cost savings for our clients through our consumption-based subscription model. Our clients have reduced their number of mundane man hours by 50% and support man hours by 20%. These results are achieved by managing their divide imaging and deployment while empowering employees through self-help. If you have the interest in finding out how DaaS can help your company, please do not hesitate to reach out to us!
The AsiaPac Difference
Using Microsoft Azure Cloud solutions, AsiaPac accelerates productivity and enhances security. It is brought by empowering employees with seamless workflows, low-admin IT and seamless user experiences.
AsiaPac also deploys Microsoft's suite of modern workplace tools ranging from Windows 10 to Office 365 to Intune to create a foundation that drives digital transformation. The Windows 10 evergreen model puts both security and user experience at the forefront. It happens while rolling out the latest features and updates as soon as they are available. This model provides a flexible and agile approach, one where you can roll out updates twice a year without impacting other services. Windows 10, now as part of the wider Microsoft 365 ecosystem, is also interwoven into Office 365 and Enterprise Mobility + Security. It also works together with cloud applications to deliver even more connected benefits for the user. Microsoft 365 tools enable teams to seamlessly share files, collaborate on ideas, and travel. Azure cloud technologies, on the other hand, help them run intensive software from anywhere in the world.
With newly integrated environments, employees enjoy greater flexibility in working from their preferred location, schedule, or devices.
Tags: azure cloud, Daas, DaaS Singapore, Device as a service, Device Management Applications, Microsoft Azure Cloud, Microsoft Modern Workplace Solution, Office 365, Personal Device Learning Program, Unified Endpoint Management,
Other blog posts you might be interested in: