Benefits of Proactively Monitoring your IT Networks
Published on 04 August 2020

In the mid of March, this year, the demand for VPN connections from businesses skyrocketed by a 50% in the US.
The period, not coincidentally, witnessed the deluge of the workforce from the office setup to a work-from-home setup. Businesses woke up to the reality of a remote workforce necessitated by the workforce movement restrictions imposed by the global governments. Thankfully, VPN providers were able to handle the spike in demand seamlessly.
However, the same cannot be said for everyone else. Since the beginning of the COVID19 lockdown, outages have become a norm across industries. Cloud service outages hit record highs. Collaboration network outages multiplied. Corporate network outages became frequent events. This is a new era.
The Challenges Standing Before Businesses
Over several weeks, the situation has relatively calmed down with fewer outages and downtime, but the risks are not entirely eliminated.
The fundamental question remains – when will everything return to normalcy? The answer is quite somber – not anytime soon!
This brings us to the next question – how should businesses prepare for the new reality?
For starters, businesses must understand the various risks posed by the pandemic to their operations. For instance, the pandemic only exposed the faults that were already inherent in our systems.
Most corporate networks are not designed to be robust and disruption-free.
Routine maintenance is the key to reducing downtime. However, the successful minimization of downtime requires a more proactive approach to maintenance. SMEs typically do not wish to spend an extra dollar on something that's "anyway working for now". They neither have the budget to create a dedicated Network Operations Center (NOC) nor the resources to hire the highly skilled resources to operate it.
A lackadaisical reactive approach eventually leaves businesses wide open to software issues, network security issues, and hardware breakdown issues, among others.
The cost? Loss in productivity, operational efficiency, brand reputation, customers, and inevitably, profits!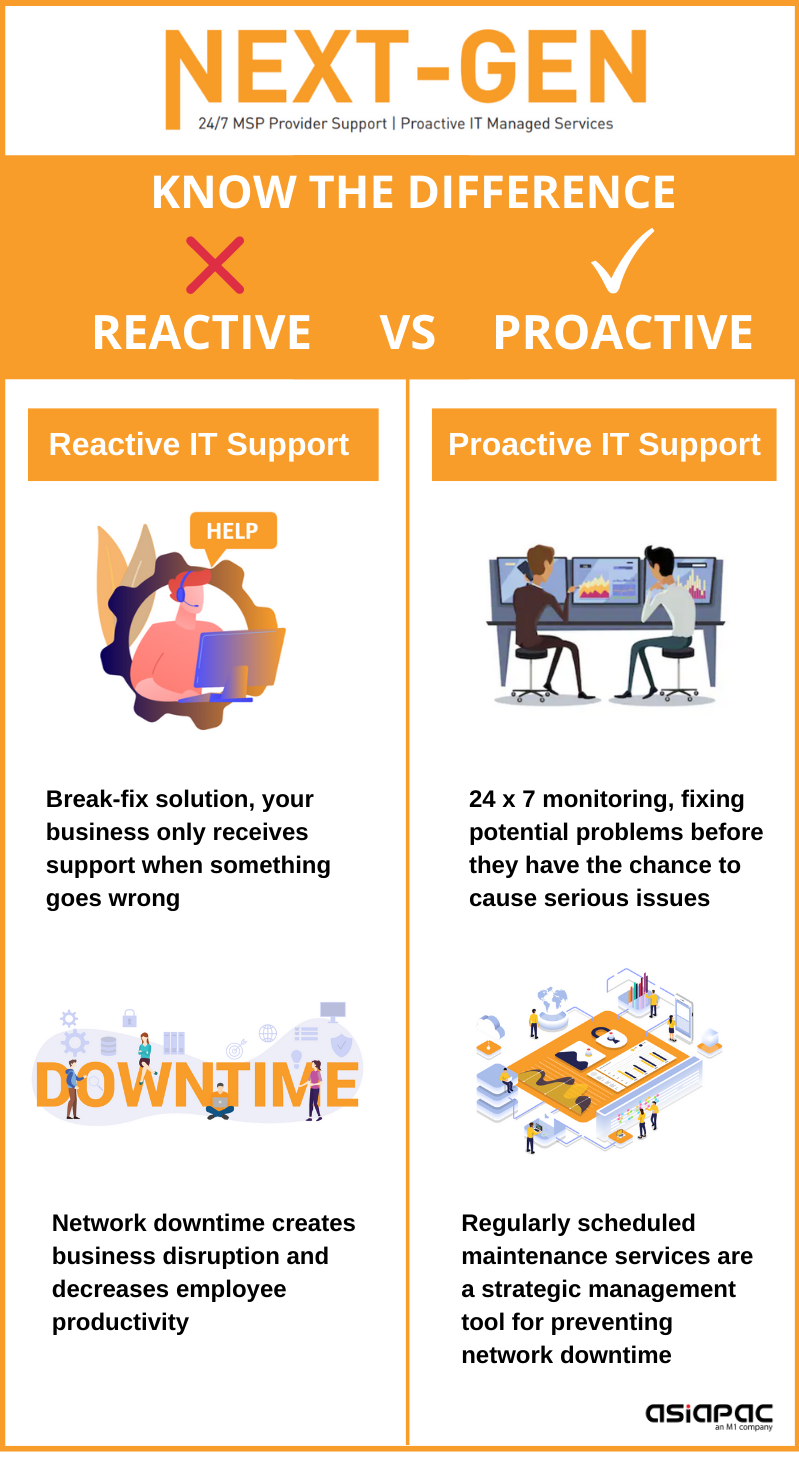 Beyond the Pandemic: Preparing Corporate Networks for Shocks and Surprises
The business landscape is getting increasingly competitive in every industry. The customer demands are growing rapidly, and they are becoming more unforgiving by the day. Disruptions to their experience, poor service, and business downtime are met with increasing hostility. These are not unreasonable demands either. They are ready to pay more for better service. In fact, 73% of the respondents of an American Express survey were willing to pay more for better service.
Businesses must be able to deliver a seamless, disruption-free, and satisfying experience to their customers, which is possible only when their own operations, specifically their enterprise networks, are disruption-free.
Therefore, a proactive approach is the need of the hour for corporate IT. Here are a few ways in which AsiaPac's proactive approach to maintenance benefits enterprise IT:
A litany of alerts in server logs, a host of failed backups, an antivirus without the latest updates – the list of small things that IT professionals often overlook is quite big. It's easy to ignore them as long as no error or issue is popping up. But, by the time the issue does pop up, you find yourself helpless and unable to rectify it quickly.
To ensure business continuity, businesses can use Office 365 to backup their data to ensure business continuity and reduce the risk of losing data. Such a proactive approach to maintenance identifies potential issues by their early warnings, addresses them, and drastically improves the performance of your systems on a day-to-day basis. Our service can improve your productivity by closely examining inventory reports for outdated or inadequate equipment or applications, recommend and perform necessary upgrades before productivity suffers and ultimately accepted as a norm.
Nip it in the bud.
We identify and correct minor problems early before they evolve into larger issues. As a result, users will have fewer complaints and a disruption-free experience. By keeping our clients constantly updated about the status of their network and the services we are providing through timely reporting, clients can be assured of their IT environment and focus on their core business and profit.
With AsiaPac by your side, the operational integrity of your corporate network will be one less thing to worry about.
On a normal workday, everything works just fine. The systems are receiving acceptable loads, the hardware is functioning optimally, the software is updated, and there are no security issues. Naturally, the maintenance cost is low too. One can get used to this "normal". In fact, this experience of normal often clouds the better judgment of decision-makers into ignoring those days that may, or more often than not "will", turn out to be a frantic scramble for restoring the operationality of the network systems.
When those days come, the business may receive a surprisingly outsized maintenance invoice, a substantial loss in business, or significant shock to the reputation. Proactive maintenance drastically reduces these potential disasters and introduces increased reliability of systems for a flat fee. No surprises – be in terms of performance or in terms of costs.
The ROI on AsiaPac's AMS proactive monitoring support plan, when compared with your existing traditional IT service provider using the reactive, hourly rated break fit service approaches and the costs you've incurred because of them, is easily justified
How We Make a Difference
We don't leave anything to imagination or chance. Depending on requirements, our Proactive Monitoring & Maintenance Plan may include:
– All server & workstation event logs
– System bottlenecks (system processes, processor/ram utilization, Network port traffic)
– Consistent AV updates and scanning activities
– Backup status, whether on-site or remote
– Firewall traffic activity, hack/spam relay attempts
– Application services (Fileprint, AD, Exchange, ISA, etc.)
– Inventory collection and Reporting
– Remote helpdesk support
Monitoring is performed 24x7x365 in our purpose-built Network Operations Centre (NOC) where skilled IT support specialist can supervise, monitor and maintain your networks and IT equipment.
Delivery Approach Made Simple
AsiaPac's AMS proactive monitoring support services can shield corporate networks, deliver a quick, reliable service to your customers. To learn more about how we can help you, get in touch with us by clicking here.

Tags: Anti-Virus Management, Backup services, Business Continuity, Cybersecurity, Digital Transformation, Firewall Monitoring, Managed Services for SMBs, Network Monitoring, Network Operations, Office 365, Performance Monitoring, Proactive Monitoring, Ransomware, remote workforce, SMBs, Startups,
Other blog posts you might be interested in: