Putting Your DataOps to Advantage with Hitachi Vantara (IDC Object Storage Market Leader, 2020)
Published on 02 June 2020
The statistics are in. A staggering 72% of the corporations are failing at digital transformation.
The big rush towards digital transformation was never going to be a smooth one. There was bound to be some level of course-correction for all industries, which meant that inevitably some businesses were expected to fall flat on their faces. However, what's surprising is the sheer volume of these failures.
According to a 2019 study by NewVantage Partners, a shocking 72% of the surveyed businesses report that they are yet to forge an organization-wide data culture.
In another study, Harvard Business Review notes that less than half of the structured corporate data is used for making data-driven decisions. Even worse, less than 1% of the unstructured data collected by organizations ever get used for performing analysis. Not to mention the fact that 70% of the employees have access to data they should not.
Data preparation, management, utilization, compliance, governance, and the list of challenges before organizations goes on.
As sobering as these results are, most organizations do not even know where to begin extracting value from their data. Apart from the complexity of the data and infrastructure required to manage it, there's the severe lack of relevant skills in the market.
The answer to these challenges is – DataOps, a revolutionary approach to utilizing data to drive innovation and achieve competitive advantage. And this is where Hitachi Vantara's Hitachi Content Platform (HCP) comes into the picture.
Introducing the Hitachi Content Platform (HCP)
Hitachi Vantara's Hitachi Content Platform is a game changer for organizations, especially the SMEs, who have simplified data management, security, and utilization requirements.
The advanced object-store drastically reduces the complexity involved in data management, while simultaneously enabling organizations to extract maximum value out of it seamlessly. The HCP platform is designed for a robust hybrid cloud strategy that is easy to implement and delivers high ROI. Here are some features of Hitachi Vantara's Hitachi Content Platform:
– Massive Scale
– Extreme scalability
– Strong security and redundancies
– Policy-based governance and compliance
– Software-defined object storage solution
– Data integrity checks with self-healing
– Multi-cloud support
These features of the HCP platform, among others, have earned Hitachi Vantara a place in the Leaders Category of the International Data Corporation (IDC) MarketScape: Worldwide Object-based Storage 2019 Vendor Assessment.
Overcoming the Skill Gap
Hitachi Vantara's HCP portfolio includes several products, each purpose-designed to meet specific hybrid storage requirements of businesses in a highly scalable, customizable, and comprehensive manner, thereby addressing the technological challenges faced by organizations.
The knowledge, expertise, and decision-making challenges associated with implementing, configuring, utilizing, and value extraction from the HCP portfolio require a reliable partner. AsiaPac has successfully established itself as the partner of choice for businesses in Singapore looking to leverage technology to drive their innovation and gain competitive advantage.
The AsiaPac Advantage: 30 Years of Driving Innovation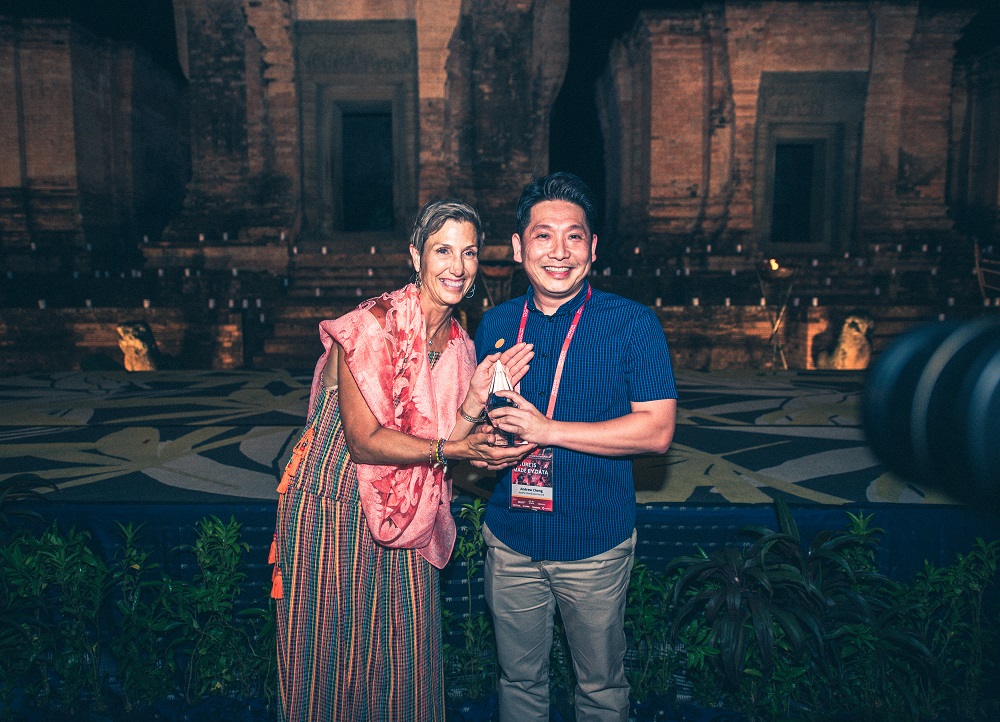 Our Managing Director, Andrew Cheng at the Hitachi Vantara ASEAN CIO & Partner Leaders Forum in 2019
As the leading Hybrid Cloud and Enterprise Systems Technology provider offering value-added products and services to our customers, AsiaPac has assisted hundreds of organizations in drastically improving their business productivity and operational efficiency by leveraging various technologies to help drive intelligent digital transformation solutions. Our ability to consistently bring cutting-edge, sensible, and proven DataOps technologies to businesses has earned us the highly coveted 'Top Growth Partner' award at the Hitachi Vantara ASEAN CIO & Partner Leaders Forum in 2019. In May 2020, we were again awarded the status of an Elite Edge-to-Core-to-Cloud Infrastructure and Resell Partner FY20 for Hitachi Vantara products, solutions and services. This will be the first and only Elite Partner award in Singapore that was presented to AsiaPac by Hitachi Vantara.
For 30 years, AsiaPac has supplied businesses with technologies that prepared them for the future, and equipped them with insights and strategies to innovate faster than before.
Today, as the only Hitachi Vantara Elite Partner in Singapore, AsiaPac continues to deliver unrivalled value to our clients, exceeding expectations in every way.
DataOps, HCP, and AsiaPac
It is estimated that 80% of the data analysts' time is spent on discovering and preparing that data for analysis, while 53% of the businesses do not even treat it as a business asset. There is tremendous potential to be unlocked here, and DataOps makes it possible for organizations to do precisely that in a highly scalable, secure, and efficient way.
HCP automates the data collection, management, and accessibility processes, which makes it possible for authorized staff to find the right data, at the right place, at the right time. With HCP, businesses get the following:
– 100% data-availability guarantee
– Time-tested performance
– Substantially lower storage costs
– A Reduction of manual tasks by up to 70%
– Improvement in application resource delivery by up to 90%
– 4x Times faster troubleshooting and root-cause analysis
With an array of products, solutions, and customizations available in the Hitachi Content Platform (HCP), organizations need a reliable partner who can provide them with the insight, strategy, and knowledge they need to create a tailormade HCP solution that delivers maximum value to their business. AsiaPac, as a success partner, not only fulfills this requirement, but also offers continued support to businesses and empowers them to make data-driven decision-making and innovation simple, efficient, and worthwhile to them.
To learn more about Hitachi Vantara's Hitachi Content Platform and understand how AsiaPac can help your business achieve competitive advantage in your business using it, get in touch by clicking here.

Tags: Data Availability, Data Driven Solutions, DataOps, Digital Transformation, Edge-to-Core-to-Cloud Infrastructure, HCP, Hitachi Content Platform, Hitachi Vantara, Intelligent Data Operations, intelligent transformation, Object Storage, Operational Efficiency, Unified Compute Platform, Virtual Storage Platform,
Other blog posts you might be interested in: