AsiaPac is the first and only Awardee for Hitachi Vantara's Elite Edge-to-Core-to-Cloud Infrastructure and Resell Partner in Singapore
Published on 01 June 2020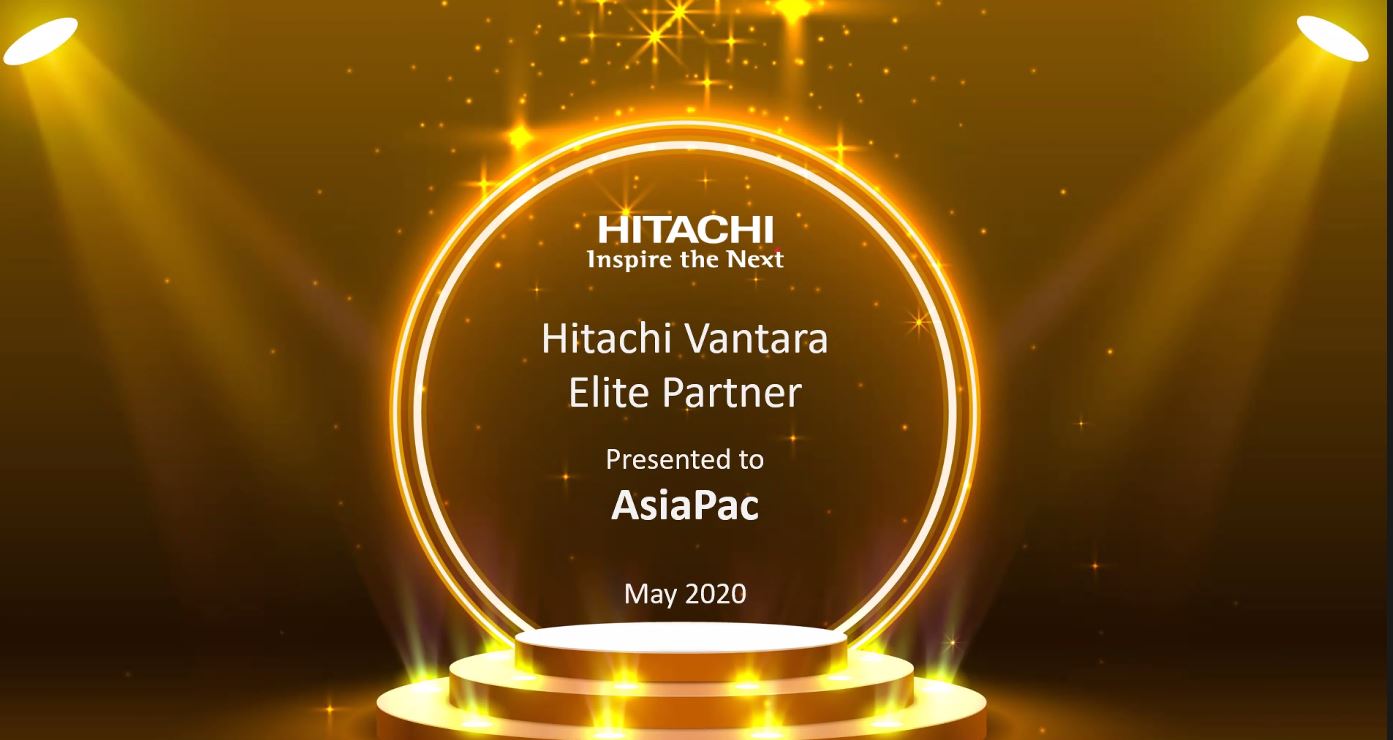 In May 2020, AsiaPac was proud to be awarded the first and only Elite Edge-to-Core-to-Cloud Infrastructure and Resell Partner for Hitachi Vantara products, solutions and services in Singapore. Prior to this award, AsiaPac was also named as Top Growth Partner FY19 at the Hitachi Vantara ASEAN CIO & Partner Leaders Forum and Best Hitachi Virtual Storage Platform Partner FY18.
As a leading enterprise hybrid cloud system integrator since 1990, AsiaPac has been delivering intelligent digital transformation solutions in Mobility, Cloud, Enterprise Systems and Robotic Process Automation. We can help to accelerate digital business transformation with a comprehensive portfolio of ICT solutions. AsiaPac focuses on end-to-end customer centric solutions delivering edge-driven systems to the core data center and the cloud with secured connectivity for customers in Government, Healthcare, Education, Financial Services, Transportation and Commercial Enterprises. We are well supported by an ecosystem of ICT partners in delivering the solutions to our customers. One of our key partners is Hitachi Vantara.
Hitachi Vantara is a leading provider for solutions to maximise your return on data; storage systems, converged and hyperconverged infrastructure, edge-to-cloud data infrastructure, multi-cloud acceleration, data operations for governance, data management and analytics, video intelligence and IOT.
As a Hitachi Vantara's Elite Partner, we have unmatched expertise and capabilities to help our customers to address emerging challenges in their digital transformation journey. Together, AsiaPac and Hitachi Vantara will continue to deliver unrivalled value to our clients. To learn more about how we can help to bring your DataOps to competitive advantage and lead your business to intelligent digital transformation, get in touch.
To get started, click here to register for a 60-days HCP Anywhere trial account.
Tags: Data Availability, Data Driven Solutions, DataOps, Digital Transformation, Edge-to-Core-to-Cloud Infrastructure, Hitachi Content Platform, Hitachi Vantara, Intelligent Data Operations, intelligent transformation, Object Storage, Unified Compute Platform, Virtual Storage Platform,
Other blog posts you might be interested in: