How AsiaPac & Hitachi Storage Solutions Help Enhance Business Operations & Data Management
Published on 11 August 2022
By 2025, more than 40% of all on-premises IT storage administration and support activities will be replaced by managed storage as a service, which is an increase from fewer than 5% in 2021 (Source: 2021 Gartner, Magic Quadrant for Primary Storage). Next-generation primary storage strategies are shaped by hybrid cloud IT operation models, artificial intelligence for IT operations, software-defined storage and consumption models. When uncertainty looms, small and mid-sized companies are under pressure to pick up the pace in innovation and scaling. Therefore, businesses must learn to leverage their most valuable asset–data. AsiaPac Technology, a leading multi-cloud solutions provider, and Hitachi Vantara helped customers deliver a more agile, flexible, and scalable future by simplifying data storage and management using their data solutions.
Hitachi Named a Leader in the 2021 Gartner® Magic Quadrant™ for Industrial IoT Platforms for Second Consecutive Year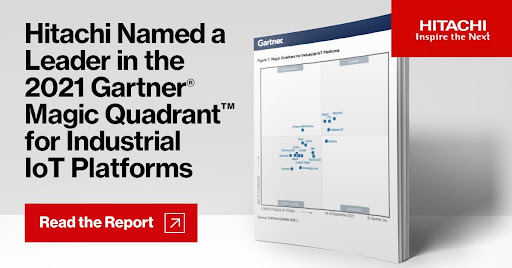 Hitachi Vantara enhances smaller businesses with the power of enterprise-grade data management, unlocking a more agile, flexible and scalable future. Using Hitachi Vantara's data solutions, businesses can meet changing demands, actively scale compute and storage, and accelerate digital projects in weeks instead of years–without over provisioning or overpaying.
Hitachi offers a 100% data availability guarantee. Under the EverFlex as a Service, Hitachi offers a pay-per-use STaaS consumption model that includes utility pricing for both capacity and data protection. So, companies can enjoy reliable enterprise-level capabilities and improve the quality of their service without worrying about operational costs. In fact, you can even reduce your IT operating budget by up to 20%!
Transform Faster and Accelerate with Hitachi Storage Solutions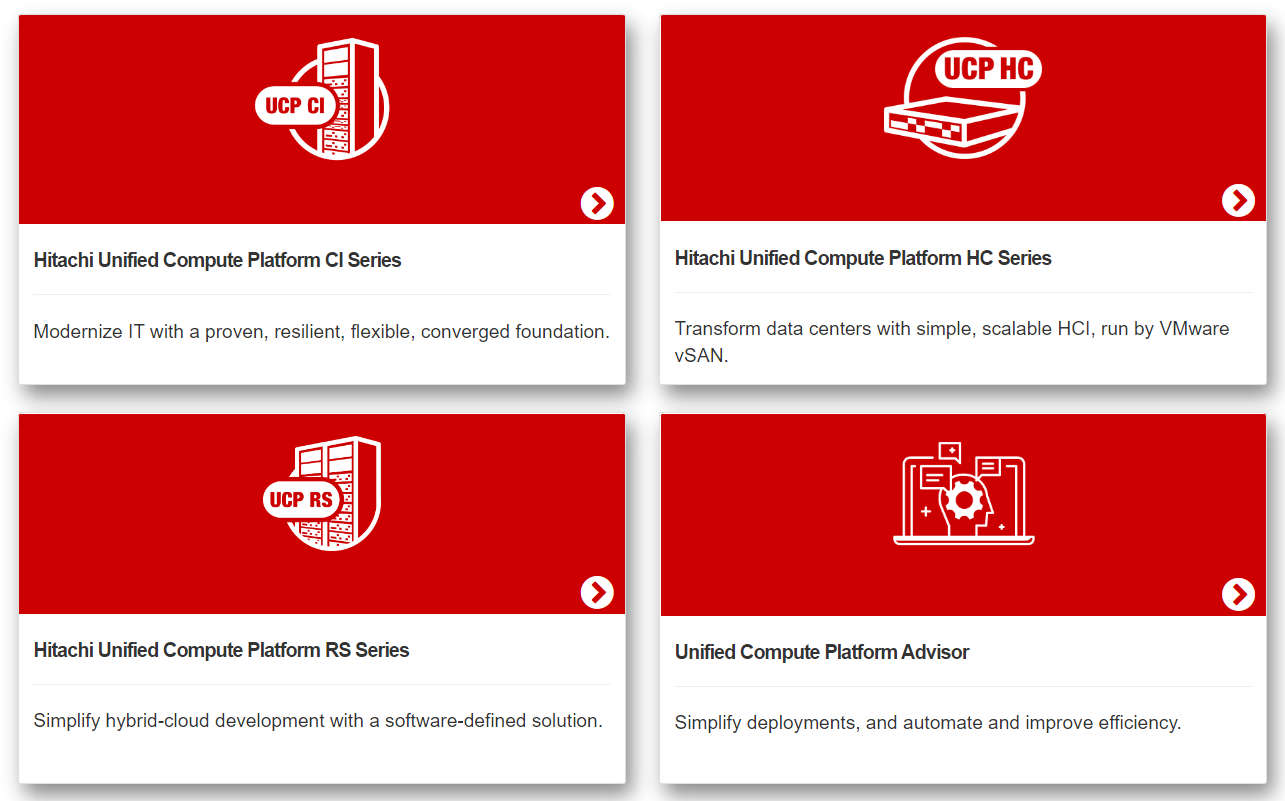 Hitachi Unified Compute Platform CI series 
The Hitachi Unified Compute Platform CI series is an adaptable hybrid cloud solution designed to run any application at any scale using dynamic and reliable converged infrastructure. With this platform, businesses can deploy any app on an enterprise level and accelerate their hybrid cloud with VMware Tanzu services. Automation also allows them to increase workloads without needing additional manpower, freeing time to focus on business innovation.
 Hitachi Unified Compute Platform HC Series Storage Solution 
Businesses can significantly improve their processes using the Hitachi Unified Compute Platform HC Series solution. With this solution, products can be released faster, companies can simplify operations, and turnkey hyper-converged appliances will reduce costs. The HC Series platform utilises a singular, unified cloud to run applications from anywhere with an internet connection It allows work to happen from anywhere and makes workloads more mobile. Hitachi Vantara can scale the solution to support key applications by maximising resource utilisation. The best part? Resource consumption is flexible, so you only pay for what you need.
 Hitachi Unified Compute Platform RS Series 
For businesses seeking a hybrid cloud solution that leverages both physical infrastructure and cloud infrastructure, Hitachi offers the Hitachi Unified Compute Platform RS Series, powered by the VMware Cloud Foundation with Tanzu Kubernetes. The RS Series runs on an automated 0–2-day life cycle, allowing for streamlined administration. By simplifying cloud deployments and automating them at a moment's notice, this solution helps businesses overcome any challenges of tomorrow.
 Hitachi All-Flash/Hybrid Flash Storage Solutions 
Hitachi's storage portfolio covers a broad spectrum of industry-critical workloads with a common NVMe-optimized, storage virtualization OS. Hitachi's operations are geographically diversified, and its clients tend to be in the large and midsize enterprise segments. Hitachi has made improvements in its Hitachi Ops Center, an artificial intelligence (AI)-driven management system. It provides automation, analytics and protection to improve IT operational efficiency. One such solution is the Hitachi Virtual Storage Platform 5000 Series, the most powerful data platform in the world and rated #1 in performance in 2021 Gartner® Critical Capabilities for Primary Storage. Hitachi's patented Accelerated Fabric allows Hitachi Storage Virtualization Operating System RF (SVOS RF) to offload traffic, delivering up to a whopping 33 million IOPS. Moreover, the platform offers a 100% data-availability guarantee!
How AsiaPac helps to maximise the value of your company's data
AsiaPac assists organisations of all sizes in increasing their productivity through technology deployment services. Together with our Global Enterprise Storage partner, Hitachi Vantara, we are able to maximise the return on data for businesses and exceed client expectations.
Never fear a digital disruption again with AsiaPac, as we possess a comprehensive suite of value-adding products and services. By combining the comprehensive capabilities of AsiaPac, We consistently innovate and implement the latest technologies for our customers. Most of all, we help them discover and fully exploit the value in their data. 
Tags: Data Solutions, Everflex Singapore, Hitachi Flash Storage, Hitachi Storage, Hitachi Storage Solutions, Hitachi Unified Compute Platform Series, Hitachi Vantara, Hitachi Virtual Storage, Hybrid Flash Storage, IT Storage, Software Defined Storage,
Other blog posts you might be interested in: