A True Hybrid Cloud Strategy with Hitachi Vantara and VMware
Published on 22 June 2021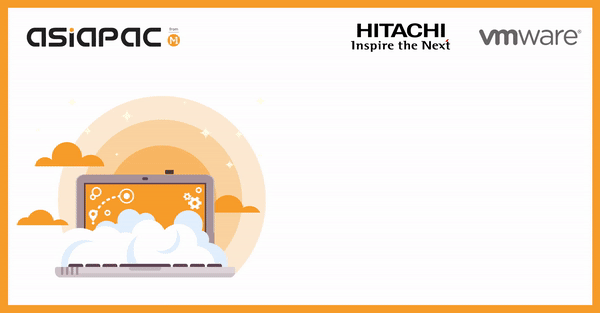 The hybrid cloud market is expected to register rapid growth over the next few years and become a $128.01 billion industry by as early as 2025. What does this mean for SMEs?
You need some context before you can answer that question. In 2020, the global cloud market was estimated to be $371.4 billion in size. By 2025, it is expected to soar into a staggering $832.1 industry. And, hybrid cloud is the door to that destination for the bulk of the SMEs.
A hybrid cloud strategy enables businesses to ride the cloud wave, without discarding their legacy IT infrastructure altogether. They get the flexibility, scalability, and resilience offered by the cloud, alongside the enhanced security, control, and the continued familiarity of on-premises systems. It's the best of both worlds.
However, a hybrid cloud has a bigger role to play than being a mere bridge to cloud transformation. The unique advantages offered by the hybrid cloud have made it an integral element of many businesses' cloud strategy. Even large enterprises are relying on hybrid cloud to gain more control over their data and workloads.
The massive success of hybrid cloud is evident, and its benefits are well-documented. So, for businesses – especially SMEs in emerging markets like South-East Asia – that are starting their cloud transformation journey, a hybrid cloud is the way to go.
bb
Get Started with Hitachi Vantara and VMware Hybrid Cloud Solutions
The success of your hybrid cloud strategy relies on two factors – your cloud data strategy and cloud infrastructure strategy.
One of the biggest reasons for the cloud push is data utilization. Cloud, be it hybrid or otherwise, is uniquely equipped to allow businesses to leverage corporate data to the fullest and turn it into a competitive advantage. However, centralizing data storage, setting up security layers, and managing its access, while streamlining its utilization by authorized personnel is an enormous challenge. That's where a robust hybrid cloud strategy comes into the picture. And, Hitachi Vantara's object storage solutions are designed for this very purpose.
Secondly, the hybrid cloud infrastructure you set up must be easily scalable, secure, and seamlessly integrate into the legacy infrastructure. Ideally, the end-users (employees) must not notice the transition from cloud to on-premise hardware, and vice versa. They must get a unified software interface that distributes workloads across legacy and cloud environments seamlessly. So, the users get the same experience whether their workloads are running on on-premises hardware or cloud. This is made possible with VMware's Hybrid Cloud Solutions.
As an award-winning trusted technology advisor, AsiaPac enjoys trusted partnerships with Hitachi Vantara and VMware. We can leverage this partnership to consult you, advise you, and guide your hybrid cloud strategy to success.
bb
Robust Hybrid Cloud Data Strategy with Hitachi Vantara
Hitachi Vantara's converged, and hyper-converged data solutions centralize data storage, automate workflows, and deliver superior data utilization capabilities that were hitherto impossible with on-premises tools.
Here are some of the benefits offered by Hitachi Content Platform (HCP) Anywhere:
· Secure and Compliant
Features built-in data governance capabilities that make regulatory compliances a breeze for organizations of every size. Whether it's data accessibility, storage, or security, the tool lets you automate almost everything. Multiple layers of security offer protection against ransomware, viruses, and trojans.
· Device Agnostic Data Access
HCP makes it possible for organizations to centralize their data storage without compromising its security. Further, it makes the data available to authorized personnel on their devices, whether they are using Android, iOS, Windows, Mac, or a Web browser.
· Reduce Data Management Costs
Firstly, HCP supports the collection, storage, and management of a variety of data, including text, media, logs, databases, and more. The unified solution handles almost every type of data you throw at it. Secondly, the built-in data protection capabilities eliminate the need for disruptive and often expensive periodic data backups.
· Enriched Data Management
HCP is context-aware. In other words, its intelligent metadata classification and cataloging give users advanced data search and access capabilities.
HCP is designed to deliver business value to your organization by leveraging your data. It's time to turn your data into a profit source.
bb
Future-Ready Hybrid Cloud Infrastructure With VMware
VMware offers multiple hybrid cloud solutions that enable businesses to migrate to the cloud without disrupting their operations. For businesses, cloud transformation does not come at the cost of their existing software, processes, or people. VMware solutions enable them to use the software and workflows they are familiar with, while enhancing how they do it. Here are some advantages offered by VMware's solutions:
· Scalability
You can scale up and down to seamlessly meet your organization's demand requirements and even expand capacity without being constrained by complexity or costs.
· Integrate Your Infrastructure
VMware hybrid cloud solutions help you modernize your IT infrastructure by unifying your siloed systems and environments into one fully integrated software-defined infrastructure. It reduces complexity, reduces costs, improves the speed of operations, and gives you unmatched agility.
· Migrate Between Environments Effortlessly
VMware's familiar tools enable your employees to move between environments and containers with ease, and operate with little to no hinderance.
VMware gives businesses the perfect starting point to start their cloud journey by using tools and resources that they are most familiar with. That way, they don't have to change their people or how they work. Minimum disruption, maximum transformation – that's the promise of VMware's hybrid cloud solutions.
bb
Final Words
As the Hitachi Vantara Elite Edge-to-Core-to-Cloud Infrastructure and Resell Partner FY20, Hitachi Vantara ASEAN Partner of the Year FY20, VMware Singapore Partner Expertise – Multi-Cloud Partner of the Year Award FY20 and VMware Cloud Platform Transformation Award FY20 winner, AsiaPac has once again demonstrated its unrivaled competence and commitment to guiding its clients towards cloud transformation success.
To learn more about Hitachi Vantara and VMware's hybrid cloud solutions, and how they can radically transform your business, get in touch.
Tags: Cloud Infrastructure, Cloud strategy, Cloud Transformation, Data Management, data storage, Digital Transformation, HCP, Hitachi Content Platform, Hitachi Vantara, Hybrid cloud, Productivity, VMware,
Other blog posts you might be interested in: