Dynatrace on AWS: The Eagle Eye Into Your Cloud Environments
Published on 04 November 2020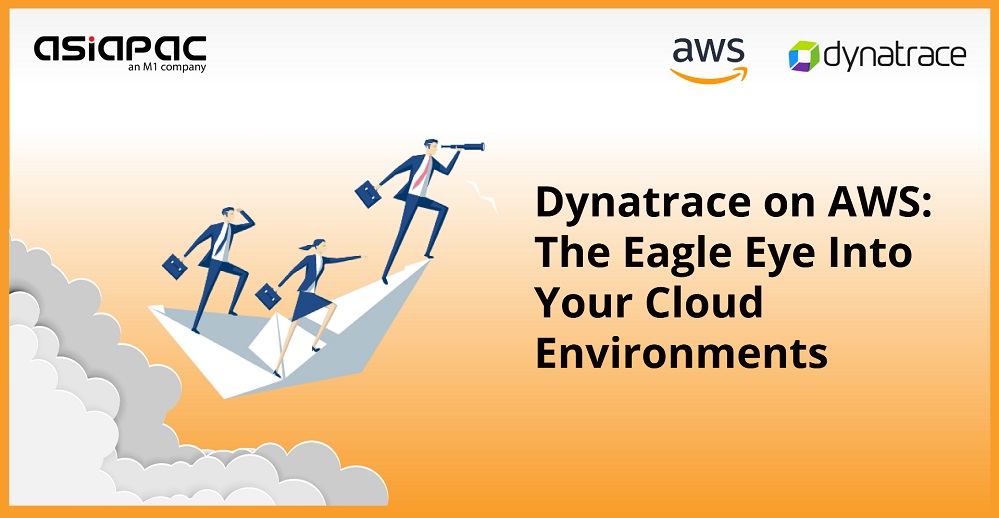 "To err is human…"
But you err enough times, and your organization runs the risk of sliding into oblivion.
Modern-day customers, especially business clients, can be unforgiving and rightly so. For instance, downtime has resulted in business losses for up to 37% of businesses surveyed in a report.
In today's highly competitive business landscape, mistakes are paid dearly by businesses by way of loss in brand equity and even measurable losses in revenues. Naturally, organizations are cautious and tend to avoid risk-taking whenever possible.
That was one of the reasons why businesses were wary of adopting the cloud. But, the push towards digital transformation has compelled businesses to migrate, and it is not without its risks. Extracting maximum value from your native cloud and hybrid cloud strategies require a thorough understanding of the platform's features and your performance requirements. In other words, organizations need granular-level observability across their cloud environments.
Enters Dynatrace for AWS
Dynatrace for AWS is a powerful software intelligence solution that offers unprecedented observability and actionable intelligence for businesses across all of their AWS cloud environments. Today, Dynatrace integration is available for up to 95 AWS services that publish metrics to Amazon CloudWatch.
But, why does it matter?
Let's find out.
Exceptionally Tight Integration
Dynatrace for AWS offers full-stack monitoring. A single solution monitors everything from users to apps to cloud to even networks. It even collects user experience data to provide contextual, session-specific visibility to organizations.
Dynatrace for AWS integrates at every level of your cloud environment and offers deep observability across your data flows. Think browser to back end to database to even APIs. Dynatrace's integration is so comprehensive that it provides you real-time error notification for debugging. In fact, the platform can identify code-level errors and bring your attention to them. That's powerful!
With Dynatrace deployed across your AWS native and hybrid clouds, blind spots are a thing of the past. Expect 360-degree observability across your cloud environments, and that's precisely what you get.
Accelerated Problem-solving, Powered by AI
Built-in artificial intelligence actively analyzes problems across the cloud environment in real-time and identifies the underlying root cause. By consolidating all of the issues and tracing them to their origin, Dynatrace offers a single actionable notification to address all the problems with a common root cause. That's precious in a world where timely identification of a problem is critical for proactive resolution.
Easy Integration
Dynatrace is designed to work out of the box. It integrates into your cloud environments with ease that's "almost" like a button click or two. No configuration, no complicated setup. Once installed, it finds its way across your cloud environments, integrates into them seamlessly, and will be ready to offer you actionable cloud software intelligence in as early as 2 days.
Highly Scalable
You don't have to configure Dynatrace for the new systems. The tool is fully autonomous and actively discovers all the new environments, apps, and even multi-cloud systems as you add them into your native and hybrid cloud. Once they are identified, the tool integrates into them too, and begins identifying potential performance improvement opportunities within them.
Drives Innovation
Dynatrace makes it possible to create service level objective-based quality gates that help software development teams stop bad code changes from ever reaching production. As this is automated, bad code changes can be identified in time, with high accuracy. This offers several advantages to the IT teams.
Firstly, they can utilize this feature to automate the deployment of their features and application updates. Secondly, automated identification of bad code changes allows them to accelerate their development and release more updates faster. In other words, they can innovate faster and release more and better features to their uses.
Recommended by AWS
That's right! AWS recommends Dynatrace, which is an AWS Service Ready partner. Clearly, Dynatrace is a tried, tested, and proven solution that saves organizations hard cash every month of its deployment.
The best part? Dynatrace allows users to customize the monitoring alerts, integration options, notifications layout, and more, to help organizations extract maximum value.
A not-so-surprising fact about Dynatrace is that it not only offers solutions for the AWS platforms but also uses AWS cloud solutions to achieve business agility at scale. By migrating to AWS, Dynatrace has been able to reduce lead times for resource provisioning from 3 months to a few minutes. This is also made possible by the automation capabilities that are baked into Dynatrace for AWS.
Minimize Your Cloud Adoption Costs With Dynatrace
Dynatrace's benefits go beyond easy cloud monitoring and problem detection. Here's a quick comparison of how Dynatrace shines over all the other major software intelligence providers in the industry – Cisco AppDynamics, New Relic, and Amazon CloudWatch.
To understand how Dynatrace for AWS can revolutionize your cloud adoption, minimize your costs, and maximize the reliability of your systems (both backend and frontend), get in touch with AsiaPac by clicking here.
As a trusted partner of Dynatrace, AsiaPac will help you deploy Dynatrace for AWS across your cloud environments and train you to extract maximum value out of it. We'll also help you customize the solution to your organization's unique development processes so that you can accelerate your innovation.
| | | |
| --- | --- | --- |
| | Meet Anjali, | Meet Anjali, AsiaPac certified Dynatrace Consultant who will be happy to assist you in your Dynatrace implementation. |
Tags: automation, Autonomous cloud, AWS, AWS cloud, Business intelligence, Cloud Consultancy, Cloud monitoring, Cloud Transformation, Digital Transformation, Dynatrace, Dynatrace for AWS, Full stack monitoring, Hybrid cloud, Multi cloud, Software Intelligence,
Other blog posts you might be interested in: