Top Reasons Why Admin Tasks Automation Is a Must-Have in 2020
Published on 27 February 2020
According to a survey by The Alternative Board, entrepreneurs, on average, spend 68.1% of their time managing routine, mundane, and repetitive tasks. They spend only 31.9% of their time on achieving their business goals.
These numbers get worse as we move down the organizational hierarchy, and their impact, even more profound. Repetitive, tedious admin tasks, such as sifting through emails, managing meetings, generating invoices, and sending client proposals, among others, are major drivers of employee dissatisfaction in organizations. They create new room for human error, bring down productivity, and introduce more Intra organizational friction – all of which can be easily avoided by automating these low-level tasks.
Naturally, 87% of the employees surveyed as part of a recent study expressed a strong desire for their employers to automate admin tasks.
"Employees find that mundane, repetitive, administration tasks eat into their workday and are frustrated by the long hours required. Our research shows that 95% of workers would prefer their employers to automate such tasks. With the high premium that countries like Singapore place on efficiency, and the push over the years toward becoming a smart nation, employees want to see this become a reality in their daily work. The frustration and dislike for admin tasks come in because this mismatch is evident – they spend time on manual tasks that are not value-adding to the work they do. The good news is that we see such a positive attitude among the workforce towards automation – many are keen on working alongside software bots in the workplace, freeing them up to take more creative and meaningful work," said Adrian Jones, Executive Vice President, Asia Pacific & Japan, Automation Anywhere.
For businesses, there are tremendous benefits to be gained from automating the various admin tasks. Here are some of them.
Improved Productivity
With the reduction in repetitive tasks, employees can divert their attention to the tasks that further the organization's business objectives. Once the mundane tasks are eliminated, employees can indulge themselves in the more intellectually stimulating work that boosts their job satisfaction and help them contribute better to the company's success. It's a win-win situation for the employees and employers.
Enhanced Processes, Operations, and Services
Deploying an organization-wide automation tool results in the collection of all mission-critical data in once place and empowers the workforce in crucial ways.
Looking for an invoice to send a potential client? Just generate it and email it with a few clicks.
Scheduling an appointment? Checking everyone's fully synced calendars and schedule meetings.
Dealing with a massive influx of customer queries? Automate contextual replies.
The potential here is endless. With every automated task, the organization becomes faster, more responsive, and accommodating of the evolving customer needs.
Real-time Scalability
Traditionally, businesses have operated with carefully planned capacity to serve their clients. They have a fixed number of people, equipment, and other resources to serve their clients. Big and unexpected demand for their products and services is usually challenging to manage, as the capacity cannot be increased overnight. All of this changes with automation.
Workload Management feature in modern automation tools, such as Automation Anywhere, is 'intelligent' enough to dynamically prioritize tasks and scale up/down the number of bots on-demand. The built-in Service Level Agreement calculators consider the predetermined penalty the company will incur due to unmet deadlines vs. the ROI to be gained from prioritizing a vast number of tasks. Based on this, the automation tool will prioritize tasks to maximize company profits.
In-Built Reliability and Consistency
For large organizations that are spread across multiple countries or even cities, consistency in services tends to be an evasive business objective. Local value systems, cultural differences, and attitudes towards work often translate into varying degrees of service quality, affecting brand perception among the target audience.
An automation tool can streamline and standardize a bulk of the processes, thereby infusing the much-needed consistency across the board. The mechanization of tasks also ensures that a large amount of work is not dependent on people anymore. This way, mission-critical tasks are not left in limbo when an employee is on leave or is occupied by other tasks.
Seamless Human Decision-making
Despite the terrific capabilities of task automation tools, they are not entirely autonomous. They make decisions and perform tasks based on the instructions that are fed into them for predetermined conditions. Sooner or later, they encounter special cases that do not fall into any of the predetermined conditions. When that happens, human intervention becomes inevitable. However, modern systems integrate human decision- making into the system without turning it into a bottleneck.
The humans can gather the information required for making the requisite decision, and once they have arrived at a decision, they can update the task accordingly. The task now moves to the next stage in the pipeline. The entire time, the other tasks are not clogged by the system. This minimizes disruption for the company and maximizes value for the customer.
The Competitive Edge
Automation tools, in effect, give organizations a competitive advantage in several ways. By automating low-level tasks, they help companies operate with a lean workforce and reduce labor costs. They improve the quality (speed, responsiveness, and engagement) of services offered by the business, effectively increasing their customer satisfaction. They also improve productivity, flexibility, and resilience of the company. In short, they empower businesses to outcompete their competitors in every aspect that matters and propel their growth.
Tangible Admin Case Studies Impact of Automation Anywhere
"You can see the joy in the eyes of employees when their mundane repetitive tasks are automated, letting them to focus on high value business activities. Automation helps to improve productivity and accuracy of tasks while improving employee morale." said Madhu Mani, Principal Consultant of AsiaPac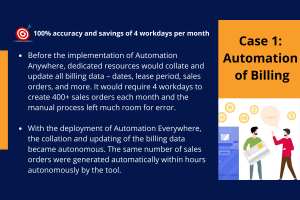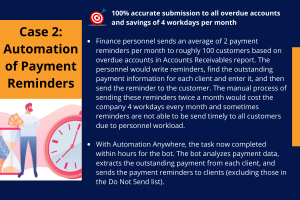 Conclusion
AsiaPac is witnessing the transformative power of the task automation tool – Automation Anywhere – with organisations firsthand. It makes organization leaner, more profitable, and a happier place to work. To understand how Automation Anywhere can help your company realize its business objectives, get in touch with us by clicking here.
Connect with Madhu, the man behind the team:
With 20 years of experience, Madhu has successfully implemented multiple transformation projects in both application and infrastructure domains. He focuses on understanding customer requirements and delivering the right solution to them effectively. As the Principle Consultant in AsiaPac, he serves a major key role in helping and supporting customers drive their digital transformation & automation journey.
Tags: Automate, Automation Anywhere, Digital Transformation, DX, Robotic Process Automation, RPA, Tasks Automation,
Other blog posts you might be interested in: