Leveraging VMware on AWS during the COVID-19 period
Published on 20 July 2020
The tsunami impact of the COVID-19 pandemic has left the global economy paralyzed in several ways. As the various stages of lockdown implemented by the global governments roll back, businesses continue to grapple with the growing fears, increasing disruptions, and the new reality of the pandemic.
Physical businesses are turning to enhanced safety and protection measures at the workplace to check the spread of the disease. In contrast, digital businesses are not sure whether it's safe yet to bring their employees back to the office.
In the midst of the uncertainty of the situation and the absence of clarity on how long the pandemic will last, organizations are scampering to find ways to continue their operations. Minimum disruption to customer services, operational efficiency, and profitability are naturally the driving forces of business decisions, as ever. Now, social distancing is another crucial factor to be considered.
The COVID-19 Challenge
In their effort to rise to the pandemic challenge, businesses are compelled to adapt and adopt new solutions to continue their operations seamlessly. These solutions must address the following challenges:
Inability to set up or scale the infrastructure rapidly to meet the flexible supply chain needs
Lockdown-induced travel restrictions translate to less maintenance of critical digital infrastructure, which in turn, leads to more downtime
Remote jobs are here to stay, at least for the foreseeable future
Drastic drop in productivity as the workforce tries to master a new set of digital tools for work
The Impact of VMware-AWS
VMware Cloud on AWS offers organizations the much-needed scalability, granular control on operational costs, and support for strategic initiatives like innovation. These factors have traditionally driven the adoption of VMware Cloud on AWS. In the times of the pandemic, some of these benefits have grown more relevant than ever, while some other lesser-known benefits have become more prominent.
Here's how VMware Cloud on AWS is allowing organizations to restore normalcy into their business operations:
As more and more employees work from home and learn to use new communication and collaboration tools, their productivity naturally takes a hit. With VMWare Cloud on AWS, organizations can move all their on-premise tools to the cloud and enable their employees to work seamlessly using the same tools, apps, and OSes that they have always used.
Eliminate Maintenance Nightmares
The inability to ensure 24×7 monitoring by the maintenance teams, due to lockdown restrictions on employee movement, means that frequent downtime could become a norm. In fact, employees and employers fear that interruptions, especially to their work, can cause severe business loss.
By migrating all on-premises critical infrastructure to the cloud or expanding the existing vSphere environments to VMware SDDC running in AWS, businesses can drastically reduce their reliance on on-premises hardware. The redundancy ensures not only faster disaster recovery but also operational continuity even when the on-premises hardware fails. Furthermore, businesses get proactive disaster prevention assistance with VMware Site Recovery and VMware Cloud on AWS.
Digital businesses, especially the B2B kind, are witnessing an escalating interest in their products and services. Services like Zoom, Microsoft Teams, Hangout Meets by Google, and others are looking at exponential adoption by users across the spectrum. Higher demand translates to greater workloads on existing infrastructure.
For businesses currently relying on on-premises infrastructure, the pandemic presents a double-impact nightmare scenario. Firstly, they are experiencing a rapid rise in interest from the market. Secondly, they are largely limited in their ability to deploy more on-premises hardware due to already long procurement cycles that are only exacerbated by the unfolding crises. In such a situation, VMware Cloud on AWS allows them to scale seamlessly, with minimum disruptions to their services, and without making any expensive upfront investments.
Maintain Security Posture
When the workforce is at the workplace, the organization has near-total control over corporate security. The devices, the networks, and the apps used by the employees are all monitored continuously for security threats and suitable measures are employed to neutralize them.
As more employees work from home, they use their smartphones, home computers, and even consumer IoTs for work. They use these devices to access critical corporate data and networks, which exposes corporate digital infrastructure to security threats arising out of employees' devices. It's already a well-established fact that human error is the largest source of security threats to businesses. Phishing, weak passwords, social engineering, and insider threats are the most common types of risks arising out of employees. Organizations can combat this by setting up virtual desktop infrastructure for their remote workforce.
To further enhance security controls and protect hybrid cloud environments made up of VMware and AWS workloads, customers may also leverage on solutions such as Deep Security to provide a single tool to consistently protect workloads across all their environments and remove the complexity and risk of managing security across multiple environments, extending protection and visibility to VMware Cloud™ on AWS.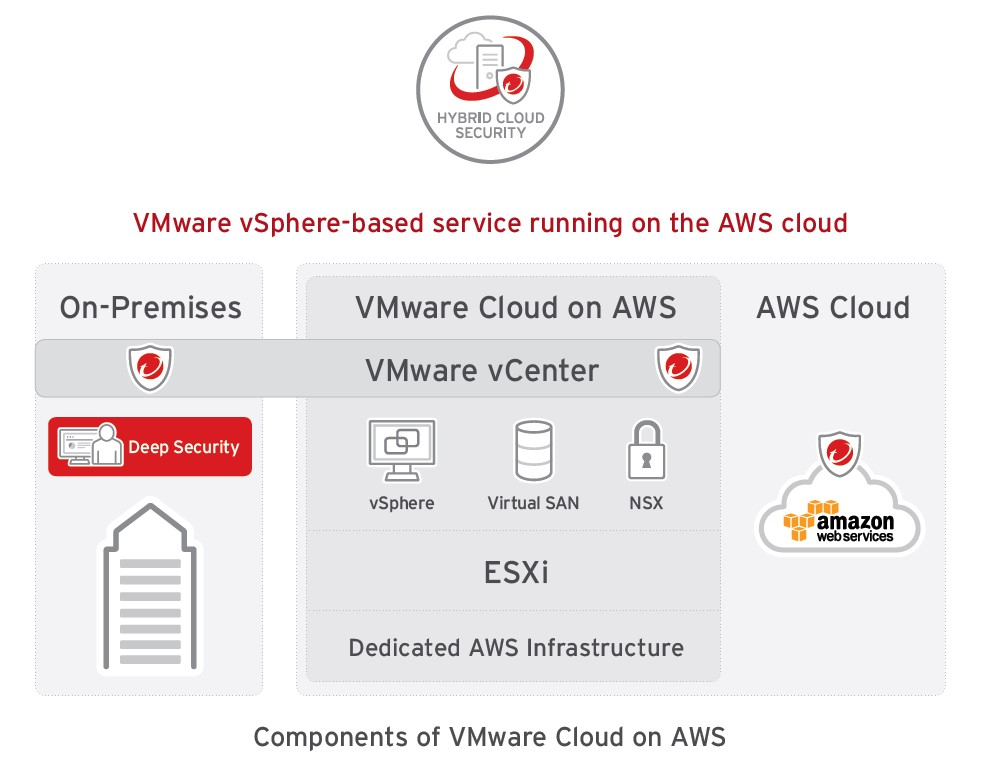 The AsiaPac Advantage
AsiaPac's decades of experience and expertise in supplying cutting-edge technologies with proven advantages have made it the leading technology partner for businesses in Singapore. Check out our recent list of awards and recognitions.
Currently, AsiaPac is the exclusive launch partner for VMware Cloud on Amazon Web Services (AWS) in Singapore and we have just been awarded the Partner Expertise-VMware Cloud Platform Transformation Award in June 2020. We are the experts on hybrid cloud consultation and have implemented multiple successful nation-wide projects in Singapore. Here, we have helped customers deliver a seamless hybrid cloud by extending existing on-premises vSphere environment to the AWS Cloud.
Our unique partnership with VMware (a leading innovator in enterprise software) and AWS (the world's leading public cloud) enables businesses to deploy, scale, and manage their digital infrastructure effortlessly. The benefits we offer are real, immediate, and measurable.
We can set up VMware Cloud on AWS for your business and get it running in just 2 hours.
With Horizon 7 running on VMware Cloud on AWS, we can set up the virtual desktop infrastructure in a matter of minutes.
We can help you start with a minimum of 2 host configuration with VMware Cloud on AWS for as low as USD 11,000/month using the same VMware management tools you are already familiar with to manage both your on-premises VMware environment and VMs running in AWS.
Where time, money, and disruption-free services are critical, you can rely on AsiaPac, an end-to-end solution provider and a leading hybrid cloud system integrator to solve your critical needs.
Act Now to Get Ahead of the Pandemic
The paralyzing effects of the pandemic are turning into a death knell for businesses of all sizes in almost every industry. Don't let it wreak havoc on your operations.
Take advantage of our FREE Hybrid Cloud Assessment to identify the potential use cases of VMware Cloud on AWS for your business. Alternatively you can also contact us here.
Tags: AWS, Cloud Transformation, Deep Security, Digital Transformation, Hybrid cloud, Multi cloud, Productivity, VMware, VMware Cloud on AWS,
Other blog posts you might be interested in: