Reducing Your Ransomware Risk with VMware Multi-Cloud: AsiaPac's Expertise in Protecting Your Multi-Cloud Environment
Published on 17 August 2023
In today's fast-paced digital landscape, organizations must be prepared to defend against the growing threat of ransomware attacks. The recent massive attack targeting VMware ESXi instances serves as a stark reminder of the potential vulnerabilities in cloud environments. While best practices suggest patching ESXi instances or disabling certain services to mitigate these issues, having a robust disaster recovery (DR) solution with ransomware protection capabilities becomes crucial. A solid DR plan lays the foundation for cyber resilience, enabling organizations to recover swiftly in the event of an unplanned outage and minimize disruption and damage to their businesses.
AsiaPac, a trusted leader in digital solutions, understands the importance of implementing robust and reliable measures to safeguard your hybrid multi-cloud environment. To address the ransomware threat comprehensively, AsiaPac has partnered with VMware, a renowned provider of virtualization and cloud computing solutions, to offer comprehensive protection against ransomware through their Cloud Disaster Recovery Solution.
Fortify your organization's multi-cloud security with AsiaPac and VMWare
At the heart of VMware's ransomware protection capabilities is their innovative solution, VMware Cloud Disaster Recovery (VCDR). By combining high-performance backup and recovery capabilities with advanced security features, VMware's VCDR solution provides a formidable defence against ransomware attacks. AsiaPac leverages this powerful solution to help protect your Hybrid multi-cloud environment from ransomware threats effectively.
AsiaPac recognizes that a comprehensive approach is essential when it comes to ransomware protection. That's why we integrate multi-cloud capabilities of VMware into our solutions, enabling you to secure your data consistently across various cloud platforms. Whether your data resides in public clouds, private clouds, or a hybrid environment, AsiaPac ensures a unified and cohesive approach to ransomware protection.
One of the significant advantages of partnering with AsiaPac and VMware is the rapid recovery offered by VMware's VCDR solution. Through efficient backups and point-in-time snapshots, AsiaPac can quickly restore your systems and data to a pre-attack state. This ensures minimal downtime and data loss. It allows your organization to resume operations promptly and mitigate the financial and reputational impact of a ransomware incident.
While recovery is crucial, prevention and proactive measures are equally vital in mitigating the risk of ransomware attacks. AsiaPac understands this and leverages VMware's VCDR solution to implement advanced security features such as encryption, access controls, and anomaly detection. These features enable us to detect and prevent potential threats, safeguarding your multi-cloud Hybrid on-premise and cloud environment proactively.
Advantages of Partnering with AsiaPac for VMware Multi-Cloud Solutions
By partnering with AsiaPac and adopting VMware's Cloud Disaster Recovery Solution, your organization gains access to a range of advantages:
Comprehensive Protection
AsiaPac's expertise, combined with VMware's VCDR solution, ensures a holistic approach to ransomware protection, safeguarding your hybrid cloud environment effectively.
Rapid Recovery
With AsiaPac's efficient backup and restoration processes, your systems and data can be swiftly recovered, minimizing downtime and maximizing productivity.
Proactive Defense
AsiaPac integrates advanced security features with VMware's VCDR solution. It allows proactive detection and prevention of ransomware threats, reducing the risk of successful attacks.
Trusted Partnership
AsiaPac's customer-centric approach, expertise, and experience make us the ideal partner. We will assist you in implementing and managing VMware's Cloud Disaster Recovery Solution. We provide tailored solutions designed to meet the unique needs of your multi-cloud environment.
Building a Secure and Resilient Multi-Cloud Infrastructure with AsiaPac and VMware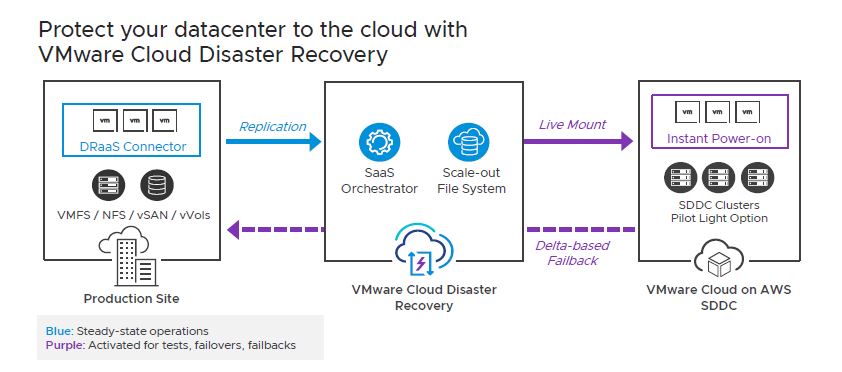 At AsiaPac, we understand the criticality of protecting your organization from ransomware attacks. Our partnership with VMware empowers us to deliver cutting-edge solutions and services. We strongly ensure the resilience and security of your multi-cloud environment. From solution design and implementation to ongoing support and security assessments, AsiaPac is your trusted partner every step of the way.
Don't leave your organization vulnerable to ransomware threats. Embrace AsiaPac's expertise and VMware's Cloud Disaster Recovery Solution to fortify your multi-cloud environment against ransomware attacks. Together, we can build a secure and resilient infrastructure that enables business continuity and peace of mind in the face of evolving cybersecurity challenges.
Tags: Disaster Recovery as a Service, DRaaS Singapore, VCDR, VCDR Solution, VMware Cloud Disaster Recovery, VMware Cloud on AWS, VMware Multi-Cloud, VMware Multi-Cloud Security, VMware Multi-Cloud Solutions, VMware Ransomware,
Other blog posts you might be interested in: